As interest in plant-based living continues to increase globally, animal-free products are becoming common in mainstream supermarkets and retailers. Additionally, fully vegan retail stores are appearing around the world. While smaller independent vegan stores have been around for decades, we are now seeing entire supermarkets opening in response to growing demand, some of them operating on a huge scale.
While this does not claim to be a comprehensive list, below are eight of the biggest and most outstanding 100% vegan grocery stores around the world.
1. PlantX – Chicago, USA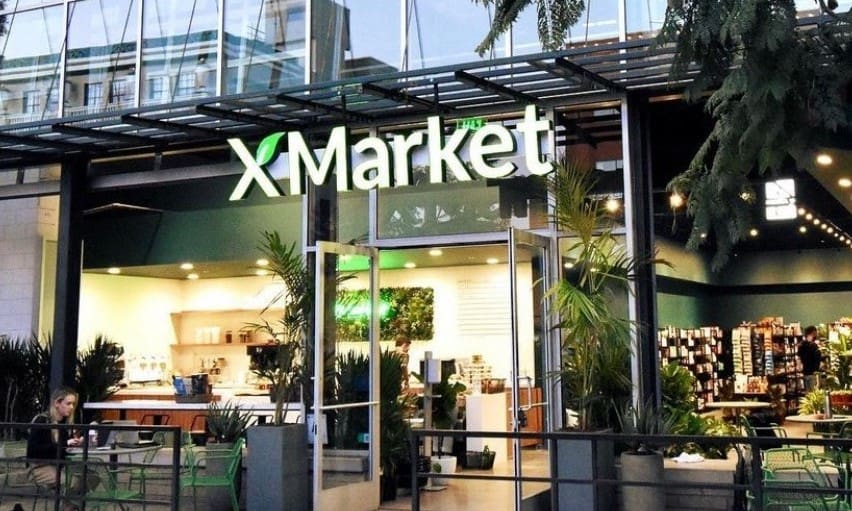 PlantX Chicago opened last July, stating at the time that, at 6,000 sq. ft., the new market may be the world's largest all-vegan grocery store. 
Offering a vast selection of plant-based foods, shoppers can find everything from meat, dairy, egg and seafood alternatives, to snacks, sauces, bakery items, soups, pasta, and cereals.
"Our carefully designed XMarket concept brings the vegan lifestyle directly to consumers in Chicago to taste, explore, and understand the plant-based lifestyle," said PlantX CEO, Lorne Rapkin. "XMarket is a vegan bodega, featuring a highly curated selection of the best vegan products available from around the world as well as nearby."
He added, "Our goal is to make the plant-based lifestyle accessible. Our grand opening party in Chicago was an overwhelming success. We plan to leverage the success of live events by hosting weekly events at the store."
XMarket Uptown is located at 804 W Montrose Avenue, Chicago, IL, and is open daily from 9AM – 9PM.
2. Vegan Búðin – Reykjavik, Iceland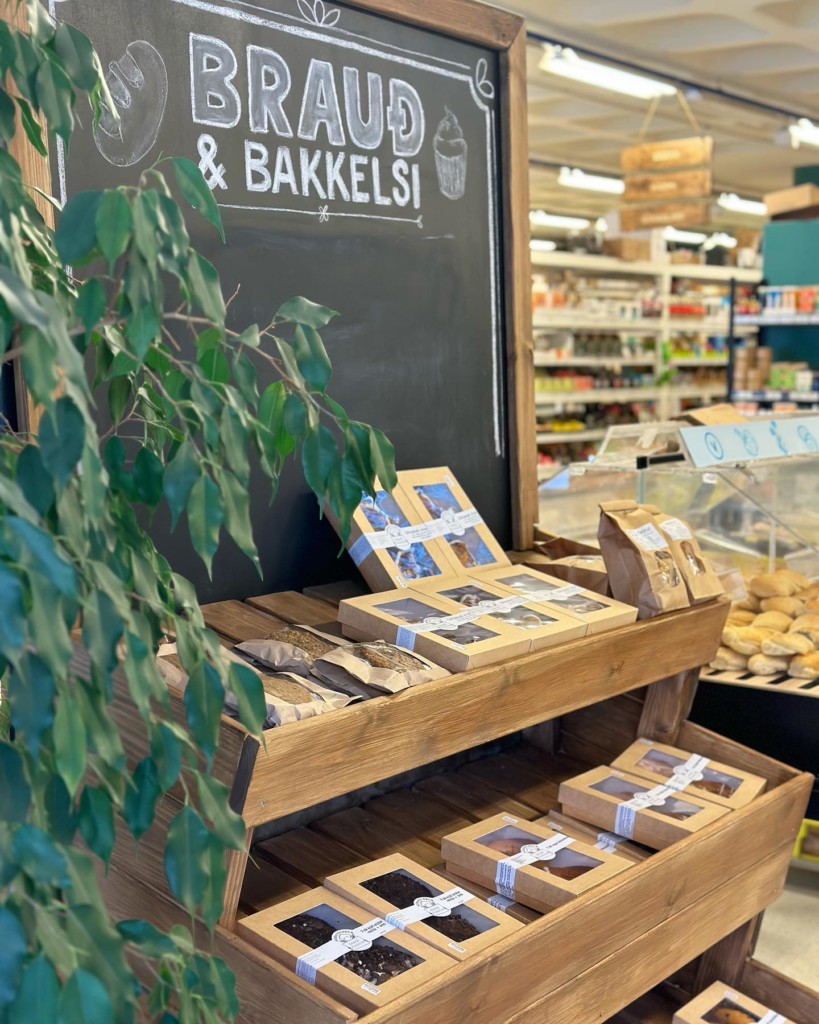 "The vegan shop in Skeifunna is the biggest vegan shop in the world," said Icelandic alt seafood producer Loki Foods to Icelandic newspaper Fréttablaðið, and this sentiment has been shared by others such as Iceland travel YouTuber All Things Iceland.

Vegan Búðin was established in 2020 and offers a large selection of food, supplements, and personal care products. One Happy Cow user comments: "This store is incredible! It is the largest 100% vegan grocery store I've been to in my entire life … and I've been to many around the world. VB stock products from all over the world. I saw many of my staples from the US and the UK as well as many products from around Europe."

We checked their social media, and these guys have everything! Located at Faxafen 14, 108 Reykjavík, online orders and home deliveries available. Open Mon-Sun 10 am-8 pm.
3. BILLA PFLANZILLA – Vienna, Austria
BILLA, one of Austria's largest employers, operating around 1,200 stores, opened a 200-metre square vegan concept store last September, which the chain says is the first of its kind in Austria.
"Neither vegetarian nor hybrid products are offered, and the entire store places great value on sustainable and reusable materials," stated Billa at time of opening.
The range includes purely plant-based meat, sausage and dairy products, frozen goods, snacks, baked goods and confectionery as well as basic pantry products and beverages.
The Billa store is located at Mariahilfer Straße 38-4, Vienna. Mon-Fri 07:15-19:30, Sat 07:15-18:00
4. Veganz – Berlin, Germany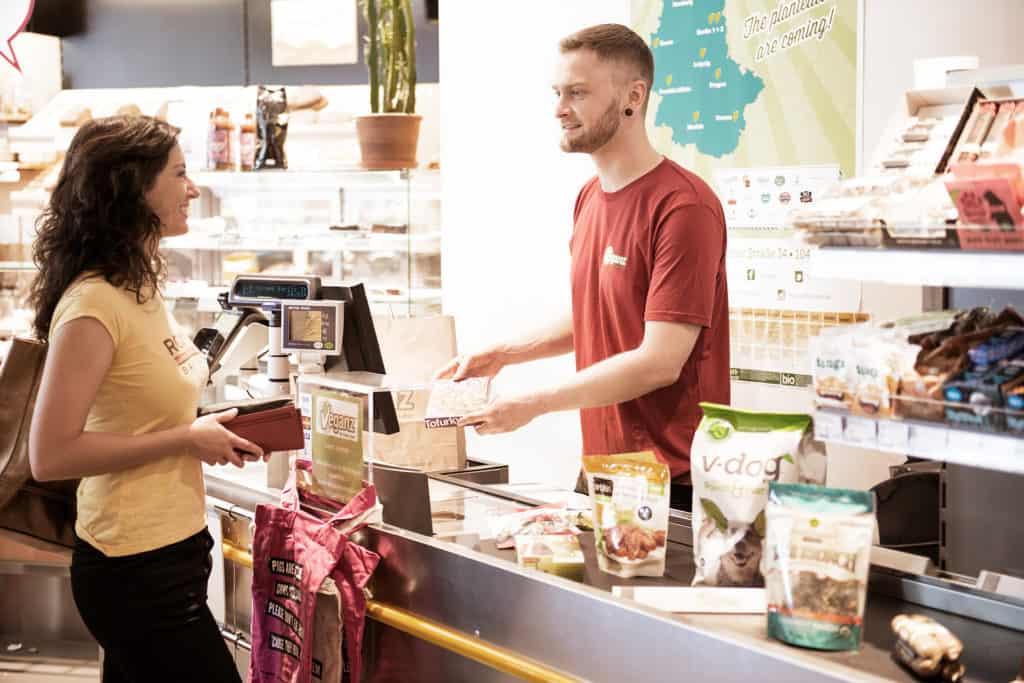 Founded by Jan Bredack in 2011, the Berlin supermarket offers a variety of products as well as a vegan shoe store.
Here in the trendy area of Friedrichshain, you can find over 2,500 plant-based foods including more than 70 meat and sausage alternatives, 80 plant-based cheese alternatives as well as a considerable number of unpackaged and innovative products such as vegan alternatives to salmon, sushi & bacon, as well as plenty of everyday household items.
Warschauer Str. 33, 10243 Berlin, Germany
5. Mr Tofu, Mexico
Mr Tofu, a chain based in Monterrey, Mexico, launched in 2014 and opened its first franchise in Mexico City two years later.
"Mr. Tofu has become one of the pioneers of veganism in Mexico"
Mr. Tofu now operates 24 branches in 14 states of the Mexican Republic and imports and distributes approximately 1,200 products from the best and most recognized vegan brands, such as: Beyond Meat, Tofurky, Daiya, Follow Your Heart, Heura, Field Roast, Gardein, Earth Balance, among others.
"With time and hard work, Mr. Tofu has become one of the pioneers of veganism in Mexico," states the company proudly, which says it works "with the aim of promoting veganism and helping those who are interested in adopting this alternative lifestyle."
6.
Vegan Grocery Store

– Melbourne, Australia
(Previously The Cruelty Free Shop)
"With over 3,000 vegan products, The Cruelty Free Shop is the largest vegan supermarket in the world," states this article, however this was from 2019 before many of the stores above arrived on the scene.
The store describes itself as "Australia's favourite purveyor of everything vegan. We bring you the widest range of vegan products including food, health, fashion, beauty, and household items."
In 2012, the founders moved from online retail to a brick-and-mortar supermarket in Glebe, inner Sydney. Two years later, the founders opened this flagship store in Fitzroy, Melbourne.
124 Johnston Street, Fitzroy, open seven days.
7. GreenBay – London UK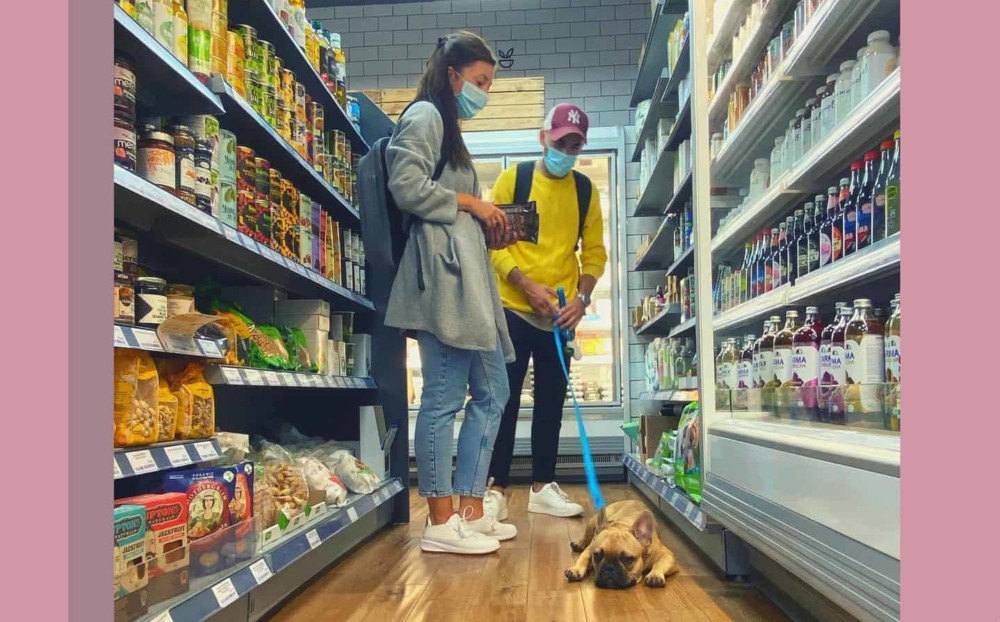 GreenBay claims to be London's first all-vegan grocery store, launched by founders Paula Alcalde and Anderson Caicedo, who moved to the UK in 2007 from Spain and Colombia.
Founded in 2015, "GreenBay is on a mission to change the world: we want to make vegan the new normal by providing an easy and convenient way to shop.
"From vegan meats to a selection of over 90 dairy-free cheeses, hard to find & exclusive items, cruelty-free cosmetics and cleaning supplies, our store (both physical & online) offers everything you'd expect to find in a conventional supermarket. So whether you're vegan, plant-based, plant-curious or simply looking for better alternatives to animal products, we're ready to help."
The wide range of products is available for home delivery across the UK via its website. The store is located at 228 North End Road, London W14 9NU
8. Food Fight! – Portland, Oregon
Certainly not the biggest but perhaps the coolest, Food Fight! in Portland was first opened in September 2003 by Chad Miller and Emiko Badillo and has changed hands since, moving to a new location in 2007 which was double the size, then landing at its current address in March of 2022 when the business was sold to new owners, Beth and Adam Sullivan.
"We've been kicking around since 2003, trying our best to provide quality vegan junk food and uncomfortable giggles to all residents of our goofy little planet. Basically, we're a vegan grocery/convenience store with 1 wee location in Portland, Oregon. We have a small produce and bulk section, but we really specialize in lots of good, fun food. Chips, drinks, candies, fake meat and cheese, & stuff like that.
"We also try our best to support our global community of bleeding-heart-do-gooders with monthly benefits and by trying to keep the focus on the animals. We are not at all concerned with your current fad diet or food fetish, sorry."
Located in the Gateway District of Portland, Oregon at 11155 NE Halsey. Open 8am-8pm Daily.
Related Posts