SALISBURY TWP., Pa. – Three businesses are coming soon to the South Mall, and a grocery store may also be joining the Salisbury Township shopping center down the line.
SuperSets, which promises to help customers "get the body you deserve," is expected to open in March in a 19,000-square-foot space at the back of the mall, 3300 Lehigh St., owner Ed Frack said.
"We're getting into the tail end of things," Frack said. "So, we're anticipating to be open within the next 3-5 weeks."
Frack opened the first SuperSets gym in October 2019 at 2450 Schoenersville Road in Hanover Township, Lehigh County, before adding a second location in 2021 at 2429 Nazareth Road in Palmer Township.
The South Mall location, occupying a renovated space that previously housed Full Circle Training, will feature state-of-the-art workout equipment and free weights, personal training services and showers and lockers.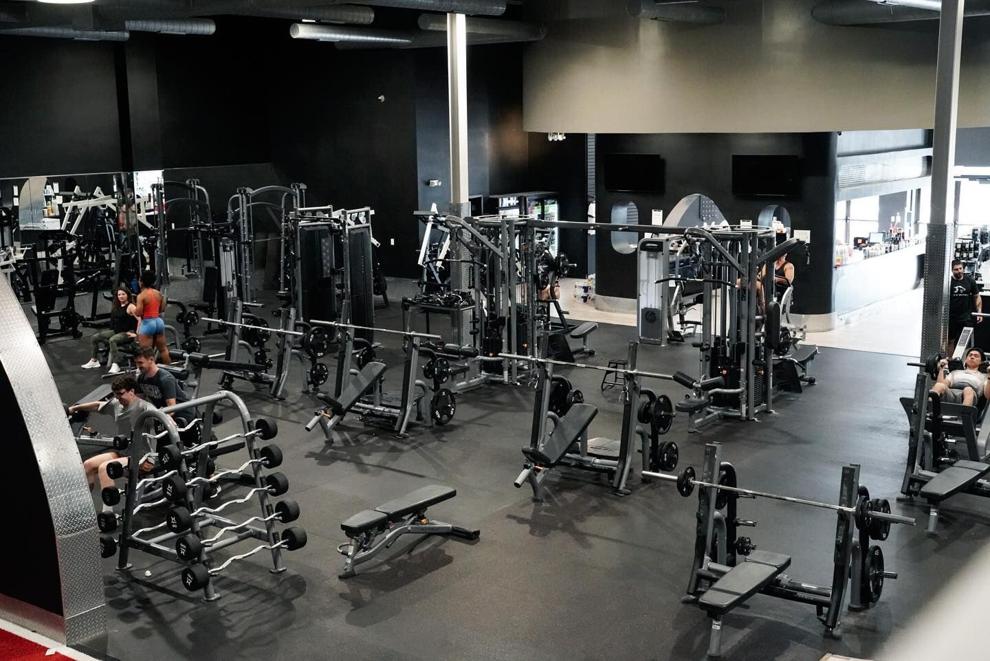 The new gym also will feature a supplement shop and nutritionist.
"My goal is to create a 'one stop shop' for a better quality of life including: fitness, nutrition, supplementation, TRT and more!" Frack states on the business' website.
Additionally, Ohana WonderTown Playground, a multi-level children's recreational facility, is expected to open in April, owner Yadira Disla said.
The playground, with blue- and yellow-checkered flooring, will feature climbing apparatus, sliding boards (twisty and regular), bridges, tunnels, a four-seat merry-go-round and more.
"We're going to have a ball pit, some slides and some sensory items that kids can touch," Disla said. "There's going to be open play, and we're also going to offer times for kids' birthday parties and private events."
The 3,200-square-foot facility will be geared toward children aged 6 months to about 7 years (or 4 feet tall), and it will accommodate 30-35 children at a time, Disla said.
Daily admission will be $11 Monday through Thursday and $13 Friday through Sunday. There also will be a monthly pass, $44.99, with a discount being available for siblings.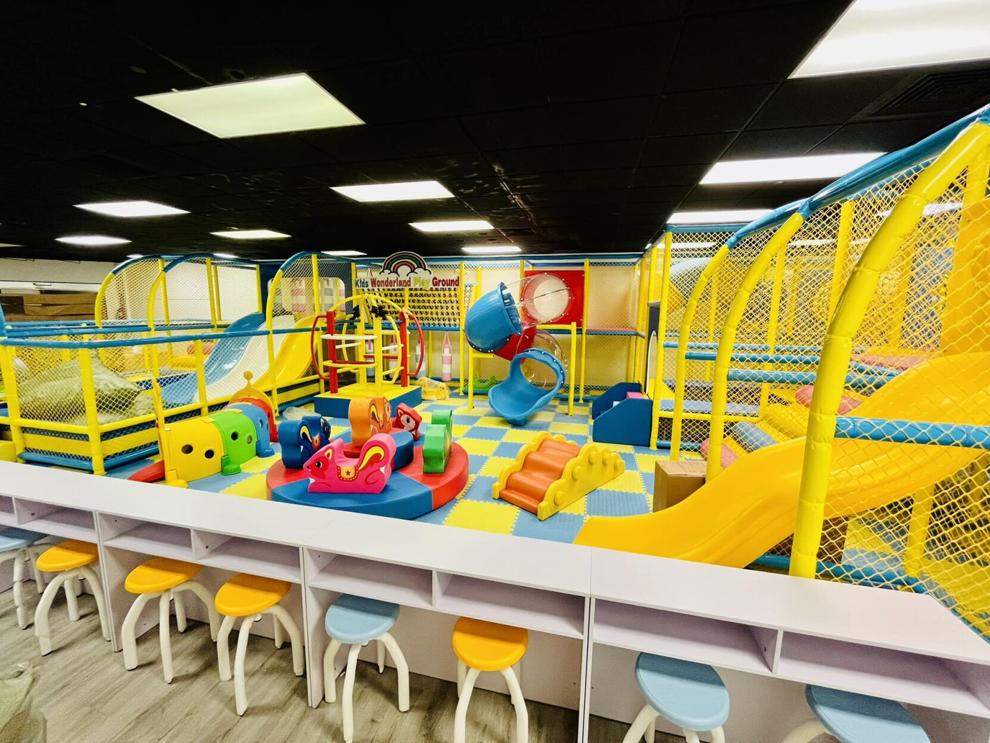 Disla previously lived in Washington, where she took her daughters to a similar indoor playground.
Upon moving to Allentown, she found herself missing the playground and decided to create a similar spot for others to enjoy.
"I went there every almost weekend and felt really happy there," she said. "So, I wanted to create a place like that here where parents could take their kids and watch them play from behind a counter. It's going to be a fun and relaxing place, where parents can just take a break with their kids."
The final coming-soon tenant is Attic Mice 2, which is planning to open in the spring, co-owner Tammy Gery said.
Attic Mice 2, carrying a wide array of new and gently used clothing, toys, collectibles and more, is moving about two miles south from its four-year-old home at the Merchants Square Mall on South 12th Street in Allentown.
The Merchants Square Mall is set to close at the end of March, and Attic Mice 2 will continue operating at the Allentown venue until mid-March, Gery said. The store is then expected to reopen at the South Mall sometime in April, she said.
"It all depends how fast we can pack up, move and unpack," Gerry added.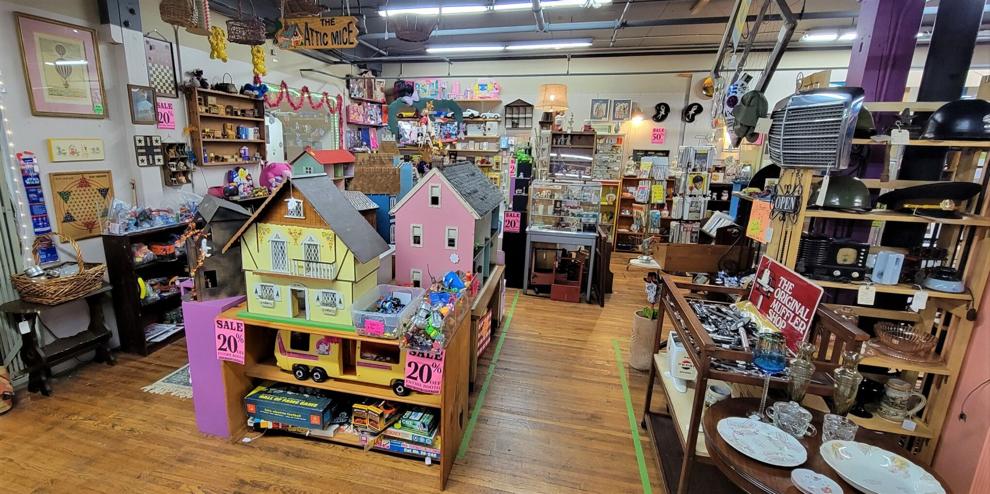 Gerry runs the store with her husband, Dale Gerry, and the couple sells collectibles that they've accumulated – including vintage Barbies, dollhouses and doll accessories – and also partners with about a dozen other local vendors, who sell their items at the shop.
Customers can shop furniture, men's and women's clothing, fashion accessories like hats and handbags, vinyl records, CDs and DVDs, home decor such as lamps and wall art, Funko Pop! figurines and toys such as Star Wars, Transformers and Monster High figures. There's even a Halloween-themed section with various spooky items.
The store has "a little bit of everything," Tammy said, and the business' Facebook page encourages people to "come dig thru our attic!"
To make the store's move easier, some vendors have implemented discounts ranging from 30% off to 75% off at the Merchants Square Mall location.
"We have a lot of knick-knacks, craft items, vintage jewelry, pop culture patches and even fun party wigs and funky boots," Tammy said. "That's our main thing; we try to have funky, unusual stuff."
Attic Mice 2, SuperSets and Ohana WonderTown Playground aren't the only new businesses listed on the South Mall's online brochure.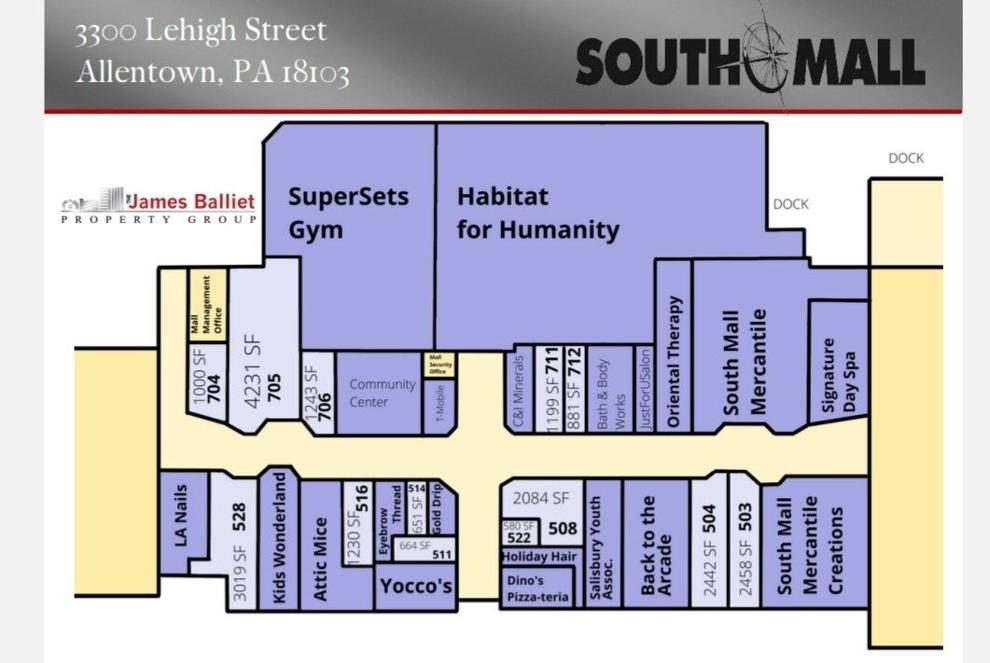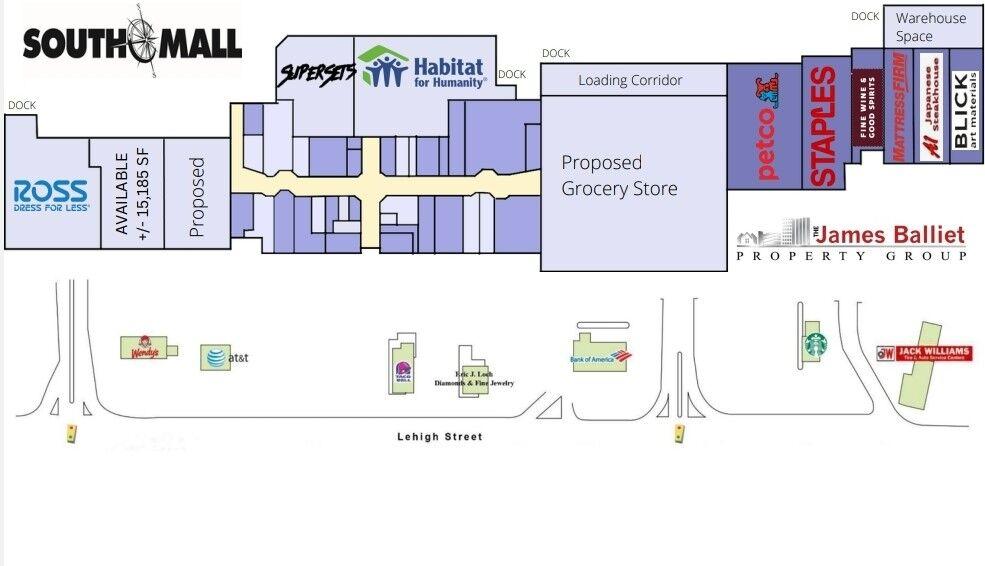 A proposed grocery store is also listed at the site of the former Bon-Ton department store, which closed in 2018.
"There is a proposed grocery store showing interest," said James Balliet, president of the mall's leasing team, The James Balliet Property Group.
Balliet could not provide any details on the prospective grocery store.
Still, just the prospect of a new anchor tenant is welcome news for the South Mall, which also lost discount department store chain Stein Mart in 2020.
The mall's origin dates to 1971, when its original owner – Hess's of Allentown – built a department store at the site. An expansion that included an enclosed mall occurred a few years later.
In addition to Uniquely Lopez Co.'s departure, other businesses leaving the mall in recent years include fashion retailer Elay's Outlet, gift shop Charmed Rose Creations and Shop 610 Barber Supply.
A steady flow of new tenants has kept the mall's retail roster fresh, though.
New tenants include C&I Minerals, Gold Drip Jewelry, Salisbury Youth Association and a second location of Habitat for Humanity of the Lehigh Valley ReStore, among others.
Another new addition, Back to the Arcade, with more than 70 retro and modern arcade games, opened in late 2021 in a renovated space that once housed Victoria's Secret.
Wyatt Paden and his father, Mark Paden, and uncle, Joe Childs, previously operated the arcade at the Merchants Square Mall in Allentown for two years before deciding to move the business for more space.
Guests can play a wide assortment of games, including 1980s upright cabinets such as Double Dragon, Ms. Pac-Man and Frogger; pinball machines like Jurassic Park, The Addams Family and Guardians of the Galaxy; and other popular picks like air hockey, Skee-Ball and Super Chexx bubble hockey.
Related Posts