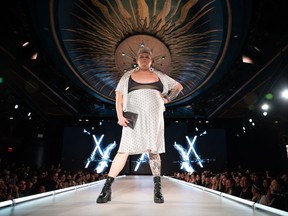 From La Loche to NY Fashion Week, Jazz Moise models two-spirit joy
'You know what? I have one life to live, and I'm going to give it my all,' said Moise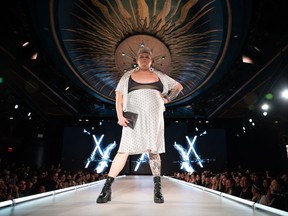 Article content
Prairie Pride is a series by Local Journalism Initiative reporter Julia Peterson that celebrates queer life in rural Saskatchewan. Visit thestarphoenix.com/prairiepride to read more.
Article content
When Jazz Moise gets dressed in the morning, the world is his runway. 
Article content
With bright patterns, vibrant sparkles and big, dangly earrings, the La Loche, Sask. substitute teacher finds joy and confidence in his clothing, expressing his creativity and two-spirit identity with every outfit. 
Earlier this month, Moise took his love of fashion to a much bigger stage: New York Fashion Week.
"Being on the runway was a thrill," said Moise. "I had a straight face, of course. I had to look fierce. But right when I stepped on the runway, I saw the crowd, and people were cheering. It was just surreal."
Moise was one of the models representing Scott Wabano, a Toronto-based streetwear designer whose genderless clothes showcase and celebrate Indigenous LGBTQ2S+ identities.
Article content
"I had never imagined myself being a model," said Moise. "I've only ever enjoyed fashion. I love dressing up; I love expressing myself. But seeing that there was an opportunity, I said 'oh my gosh. This is my shot.' "
For Moise, walking that runway in Wabano's flowing silk outfit was a chance to represent two-spirit excellence and be the role model he had wanted while growing up in La Loche. 
As a child, Moise recalls, he felt "so insecure" and struggled to find his path. 
"I was never fully confident or fully myself," he said. 
But when he moved to Toronto to study film and acting, the world of fashion opened up to him.
"It was a big culture shock, coming from a small town to a big city — and I was a small-town boy with big-city dreams, of course," he said. "And I was seeing all these people who are unique, who have their own fashion sense, and I thought:
Article content
"'This is where I can actually be myself. This is where I can express myself truly.'"
Eventually, when Moise decided to move back home to his northern village — with all his new-found love of fashion in tow — he wasn't sure how people would react. What would they think of his outfits and his confidence?
"I was so scared to come back to my community, being so different, expressing myself through these clothes," he said. "At the beginning, I had people look and laugh at me about it. 
"But I decided — you know what? I have one life to live, and I'm going to give it my all."
So whether in the classroom, making content for his popular TikTok account, working on his photography or just walking to the grocery store, Moise owns his style.
Article content
And over time, he says, La Loche has changed. 
"It's more open," he says. "People are just being themselves, which is so great. I see a lot of people here who are expressing themselves through fashion, and I'm just so happy for everyone who is doing what they want to do, dressing up and being fashionable. It has become so normal, which I absolutely love."
In 2019, Moise hosted a well-received fashion show in La Loche to celebrate local creativity and "say that it's OK to be yourself, and if you are true to yourself, good things will happen."
Since that show, Moise said, more people in the community — especially children and teens — have been following his fashion journey. And after his Fashion Week debut, he heard about the enthusiastic response from some of his fellow teachers. 
Article content
"They were telling my story to their students," he said. "There is so much support from my fellow community members, and it was really nice to hear that there are young ones who look up to me and say that I am a role model to them."
But some of his biggest cheerleaders have always been his family — including his auntie, Alvera Hatch. She wasn't surprised when she heard that Jazz would attend Fashion Week.
"I am very, very proud of him," she said. "Jazz is just that type — he's always been a fashion person. He's always dressed really well. And this was totally up his alley and such a great opportunity. Not often do you hear about an individual from La Loche going to do a fashion week in New York City, of all places. 
"So I am very excited for him, and I hope he gets more opportunities like this because this is who Jazz is and this is what he loves to do. And I love this for him."
Article content
Hatch says her nephew has always been a dreamer and a go-getter, a positive presence who stands out in every room. 
For Moise, his time at Fashion Week has only reaffirmed his love for fashion and opened up new possibilities for how he might nurture that love going forward.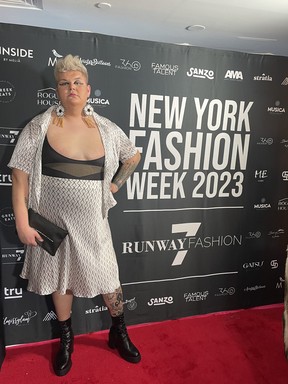 During his whirlwind trip to New York, he was able to network with other Indigenous models and designers, forging new friendships in the fashion industry and celebrating Indigenous triumphs on one of the world's biggest stages.
"I met a model there who also speaks Dene, but she's from the Navajo Nation in Arizona," Moise said. "I saw her runway debut, and we were able to connect and speak Dene to each other. The dialect is so different, but we understood each other, and there we were: Two models, two Dene people, taking over fashion week. It was really fun."
Article content
Fashion Week has also inspired Moise to think about his own future in the industry — whether on the runway, or behind the scenes.
"I could be a stylist or an artist in the fashion world, and maybe one day I can collaborate with Scott Wabano," he said. "That's a dream that came to me after this experience."
But no matter where Moise's fashion-forward footsteps take him — whether down the runway in New York or through the streets of La Loche — he knows one thing for sure: People are looking up to him, so he is going to show the world just how bright two-spirit joy can shine.
— Local Journalism Initiative
Julia Peterson is a Local Journalism Initiative reporter who works out of the StarPhoenix. The Local Journalism Initiative is funded by the Government of Canada.
'Dancing is healing': Courtney-Dawn Anaquod models mental health through Métis jigging

Prairie Pride: Embracing the 'hummingbird in our family'
The news seems to be flying at us faster all the time. From COVID-19 updates to politics and crime and everything in between, it can be hard to keep up. With that in mind, the Saskatoon StarPhoenix has created an Afternoon Headlines newsletter that can be delivered daily to your inbox to help make sure you are up to date with the most vital news of the day. Click here to subscribe.
Related Posts